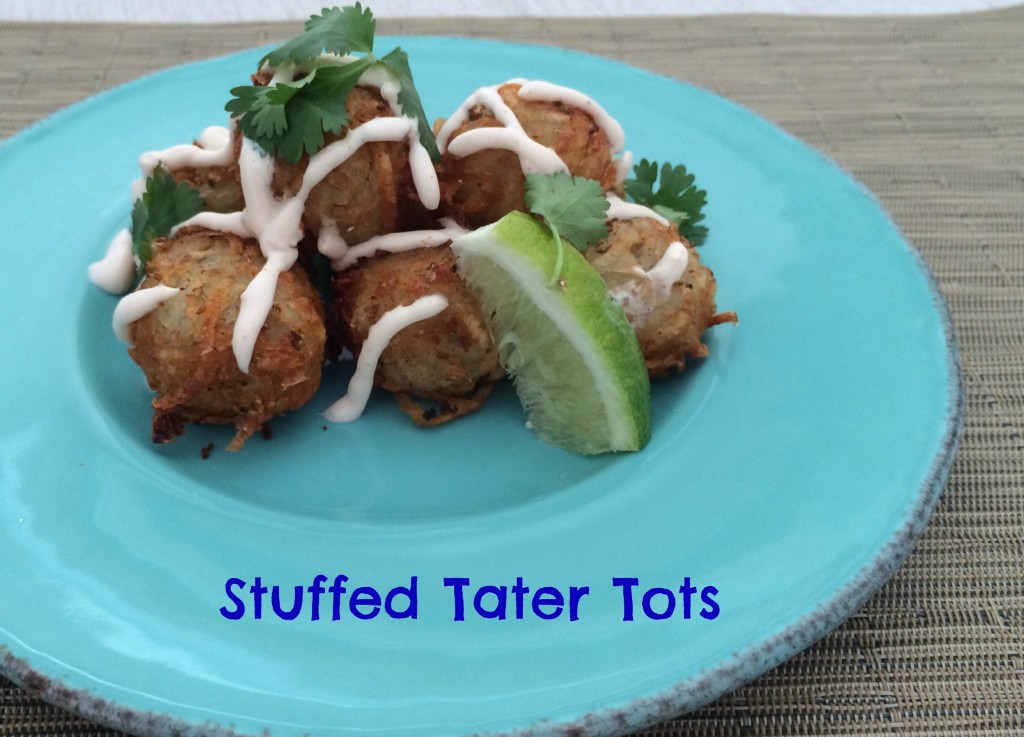 First things first – I am a huge fan of honesty, so I'm going to tell you… Getting a picture of these stuffed tater tots sucked. In fact, if they didn't taste so freaking good, I would have scrapped the whole project based on the pictures alone. That said, these were so freaking good! The picture could never do them justice.
Eating predominantly gluten free in our home often cramps our ability to have convenience foods. Oftentimes, in order to have convenience items available, my husband will spend an entire Sunday prepping things the kids and I can make on our own. These stuffed tater tots fit into the category. Once they are prepared, they can be easily frozen and fried up at a later date. Just be sure to thaw before frying so they can cook all the way through.
Freezing and preparing later was not an option when we were testing this recipe. There is something about fried potatoes and hot, melty cheese that makes teenagers swarm the kitchen. In addition to posing a photography challenge, it was difficult to keep these tots around long enough to even photograph!
Make note, although the recipe calls for Pepper Jack, you are free to substitute other cheeses of your liking! Enjoy!

Tator Tots
Crispy potato outside, smooth potato in the center
Ingredients
Mashed Potatoes
1 large Idaho potato ( about 7-8 ounces)
3 tablespoons butter
2 ounce cream
1 tablespoon salt
For Tator Tots
7 ounces mashed potatoes
3 medium size Idaho potatoes
4 ounces pepper jack cheese
2 teaspoons salt
Instructions
For Mashed Potatoes
Peel and large dice the large Idaho potato. Put it in a pot, cover with water, and bring to a simmer. Cook until the potatoes are fork tender (they can be pierced with a fork and have no resistance)
Drain water, mash up potatoes and add in remaining ingredients for mashed potatoes.
Place in a different container and place in fridge for later use.
For Tater Tots
Grate the 3 medium sized potatoes, and one small handful at a time squeeze as much water out of them as possible. Place in a bowl once they are "dried".
Weigh out 7 ounces of mashed potatoes and 3 ounces of shredded potatoes, mix them together in a bowl.
Dice cheese into ¼ ounce cubes,
Make 12 even sized balls (about the size of a large marble) of the potato mixture with one ¼ ounce portion of cheese stuffed in the middle. This will be easiest to do if you press the potato mixture around the cheese first until it is firm then roll in your palms to get the desired shape. Each tot will weigh about ½ ounce at this point
Take the remaining shredded potatoes and coat the outside of the tots. The same process of pressing first and then roll in your palms will give the best results. Each tot should weigh about ¾ ounce at this point
Heat a large pan with enough oil to come half way up the tots. When oil is hot, put 6 tots in to fry. Fry until they are golden brown and crispy on one side, then flip over and fry the other side. This should take 2 minutes or so on each side.
To hold them while the others are cooking preheat oven to 200 degrees and place on a sheet tray in the oven.
Related Posts via Categories