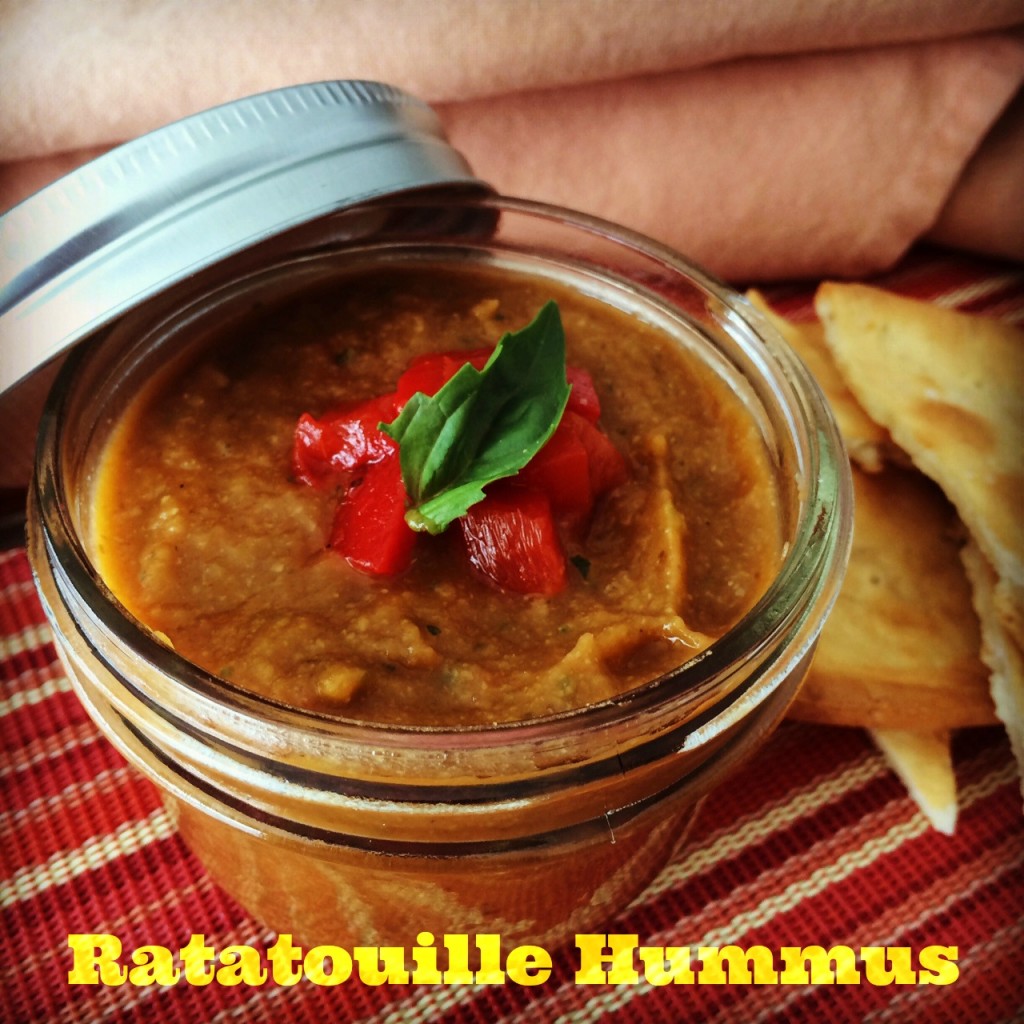 Hummus is a favorite in our home. We eat it with crackers, veggies, pita chips…pretty much anything that can be dipped. As much as I love the old standbys like roasted red pepper or pine nut, sometimes I crave something different.
Sitting around talking about food one night (like we often do), my husband mentioned how great the flavors of ratatouille would taste in a hummus – and the idea was born!
Because finding gluten-free pita chips is quite difficult, we have taken to making our own using frozen pizza crusts. Obviously this dip is also fantastic on dipping veggies and crackers.
Ratatouille Hummus
Fresh twist on a classic
Ingredients
Hummus
1 eggplant
1 teaspoon cooking oil
1 roasted red bell pepper (skin and seeds removed)
1 can (15.5 oz) garbanzo beans
2 teaspoons garlic powder
2 teaspoons onion powder
2 teaspoons salt
1 tablespoon water
5 large basil leaves
Flatbread
1 package Udi's gluten free pizza crust (2 round crusts)
1 tablespoon extra virgin olive oil
1 teaspoon salt
Instructions
Hummus
Toss eggplant in oil and place in 375 degree oven. Bake for 20-25 minutes or until the eggplant is soft all the way though. Pull from oven and allow to cool slightly then peel. Rough chop the inside of the eggplant.
Place chopped eggplant and all other ingredients except the water into a blender. Pulse a few times, then slowly drizzle in water while continuing to pulse. After water is all added, if the hummus to too thick to blend, mix with a spatula a few times then continue to pulse until the mixture is smooth. The spatula may be needed more than once.
Place in serving dish and prepare flatbread.
NOTE: It is easiest to buy roasted red peppers at your local grocery store but roasting the pepper can be done at home if desired.
Flatbread
Place pizza crusts on a baking sheet. Evenly spread extra virgin olive oil and salt on top.
Bake at 375 degrees until bread is golden brown and crunchy.
Cut into wedges and enjoy.
Related Posts via Categories