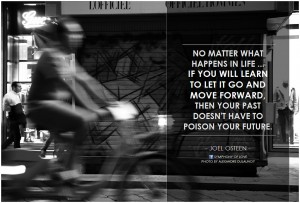 There are things that sometimes take me back to my past life. Simple things like hearing a TV show we used to watch playing in the background, or drinking a beer I first tried with him.
Moving on is such a complex process. All of the pieces of our lives make up such complex individuals. Each of us are like great big mosaics. Take a piece out or move it to a different place, or in life, a different time, and it's not quite the same.
Accepting the past, the choices I have made, and the cards I've been dealt created the person I am today. I have raised two remarkable children mostly by myself. I've been a homeowner, a business person, a writer, a girlfriend, and a friend. I even made the choice to once again wear the title of wife.
I'm forever grateful for redos and seconds chances. I have reached a state of contentment in my life I once believed impossible. But here I am, and it's real.
But even still, thoughts of my past creep in, and I get sad for what could have been. I get stuck in the trap of wondering if things could have gone differently. What if I would have continued to turn a blind eye? Would things have eventually worked in our family's favor?
I know these thoughts are all part of the mind games we play with ourselves…
Like I said, moving on is a complicated thing.
Related Posts via Categories