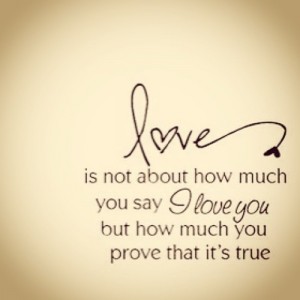 Valentine's day – the international day of love.
Some believe this holiday was fabricated by greeting cards companies as a money-making ploy. Others believe it is a day for sweethearts to express their feelings to one another. For me, it's just another day.
I have never been big on Valentine's Day. When the kids we small, I would get them a card and a treat.  Maybe it's because I spent so many years as a single woman. I've just never put much stock in one day to tell those you love that you love them.
Sure! I get a kick out of all of the amazing and creative Valentine's Day  treats and gifts that flood Pinterest this time of year. I've even considered making my family heart-shaped treats for fun. I'm not a complete hater, after all.
While I think it is great that the world seems especially mushy on this day, I choose to show my love to those most important to me every chance I get.
photo source: http://www.tumblr.com/tagged/love-quotes
Related Posts via Categories