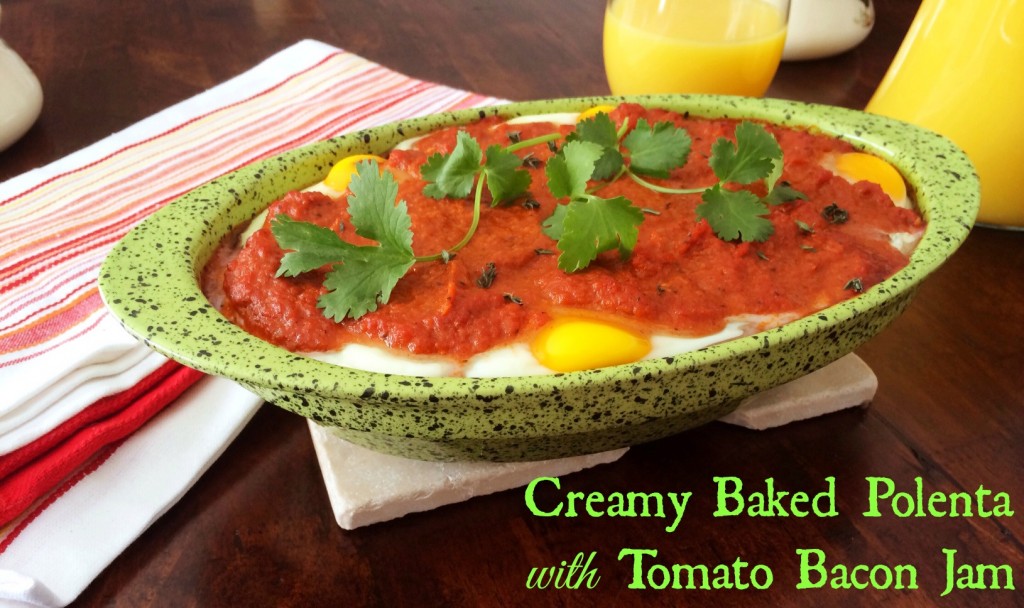 Brunch could quite possibly be my favorite meal of the day. During a recent visit to Chicago, my husband and I had brunch at one of the best-known gastropubs in  the city. They had a creamy polenta dish on the menu that was the inspiration for this dish.
Sometimes brunch calls for more than eggs and bacon – this dish is a nice variation of these classic American favorites!
This creamy, smooth polenta melts in your mouth, but provides a hearty based for the rich tomato bacon jam. The soft egg yolks add a buttery touch to the dish that ties it all together.
Naturally gluten-free and easy to make, this dish has quickly risen to the top of our list of favorites!
Creamy Baked Polenta with Tomato Bacon Jam
Creamy polenta with a soft cooked egg and a savory tomato bacon jam.
Ingredients
Tomato Bacon Jam
6 oz bacon
¼ white onion rough chopped
1 teaspoon garlic
1 tablespoon thyme leaves rough chopped
¼ cup cilantro
14 oz canned chopped tomatoes
½ tablespoons salt
1 cup blackberries or blueberries
Polenta
6 cups milk
½ onion (cut into 4 pieces)
½ teaspoon chili flakes
1 cinnamon stick
¼ cup thyme (stem on)
4 teaspoon salt
¾ cup cornmeal
½ cup sour cream
6 eggs
Instructions
Tomato Bacon Jam
In a large pan, cook bacon until it is done but still soft. Remove grease.
Place onion and garlic in the pan and sweat until both are translucent.
Add thyme, cilantro, and tomatoes. Cook on low heat for 10 minutes.
Remove from heat and place in blender, add salt and berries. Pulse until mixture is smooth. Hold for later use.
Polenta
Heat milk on low heat with onion, chili flakes, cinnamon, thyme, and salt for 10-15 minutes. Be careful not to let it boil or milk will burn to the bottom of the pot. Taste the milk throughout the process to make sure it isn't becoming too spicy for your tastes.
Strain milk and put back on heat, bring to a simmer (slow bubbles coming to the surface).
Slowly sprinkle cornmeal into milk whisking vigorously. Be careful to not allow the cornmeal to clump up.
Stirring often, cook until mixture comes to a boil and reaches its full thickening power. This will happen 1 minute or so after it reaches a boil.
Mix in sour cream and place in a 10 x 10 baking dish
Assembly
With polenta in baking dish, crack the 6 eggs and pour over the polenta. Try to spread the yolks out as even as possible. This is best to do one egg at a time.
Spread the tomato bacon jam over eggs and place in 375 degree oven for 25-30 minutes or until eggs have cooked but yolks are runny. Take out of oven and dig in.
Related Posts via Categories