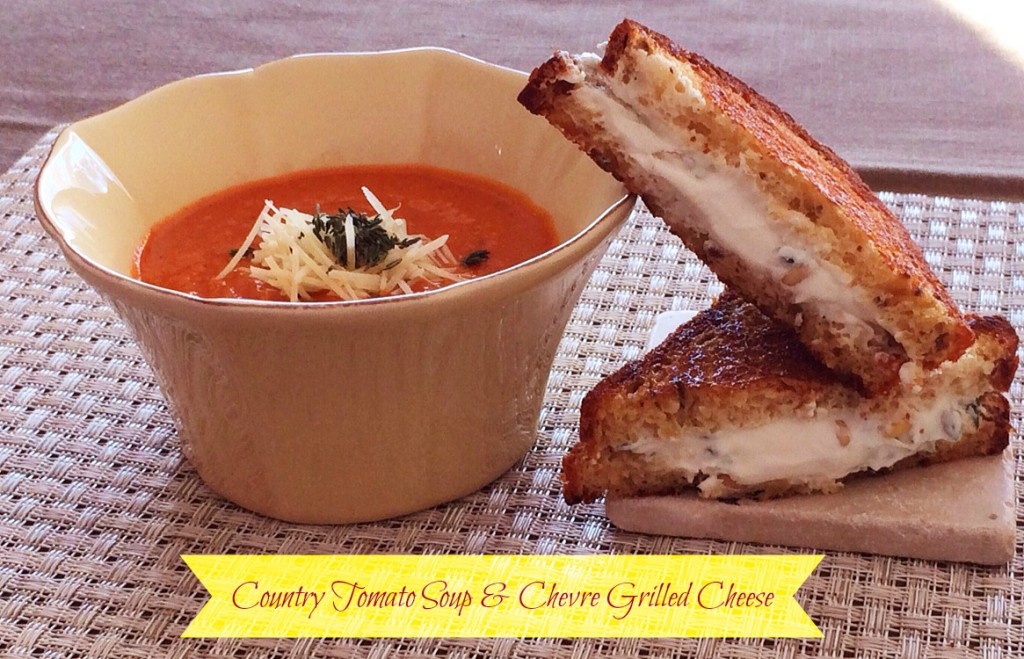 This Minnesota winter has been long and brutal. When the temperatures haven't been below zero, we have been getting mountains of snow. Needless to say, it has been perfect weather for soup.
One of my favorite soup combos is tomato soup and grilled cheese. Nothing warms me better than a creamy, bright bowl of tomato soup and an ooey gooey grilled cheese sandwich.
At some point I outgrew the canned tomato soup and American cheese grilled cheese I loved as a kid, but I still love the flavor of the crunchy, buttery bread and the oozing herbed chevre dipped into a piping hot bowl of this hearty, sweet soup.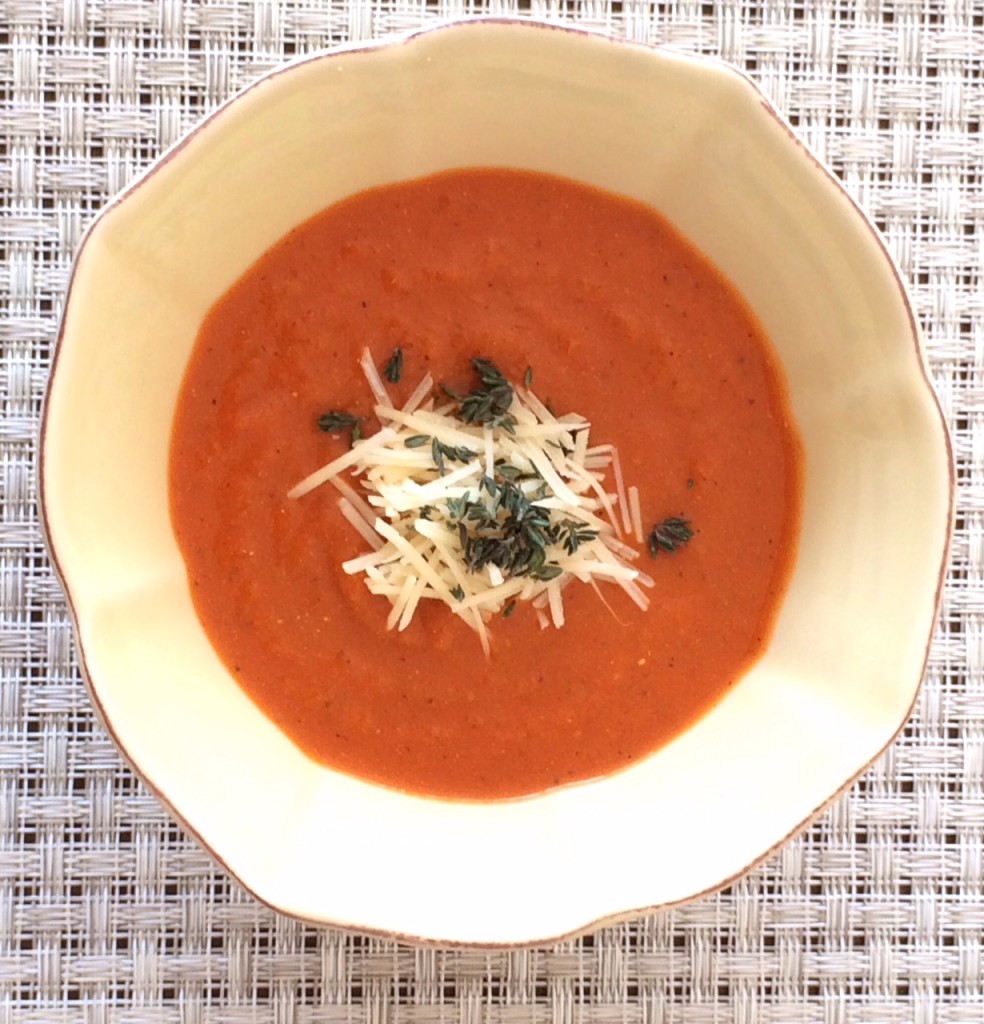 Stuck at home during our most recent snow storm, I had a craving for this American classic. My husband  quickly whipped this up in just over an hour! This recipe is great if you're looking for a scratch soup that is easy to make and reheats well.

Country Tomato Soup with Herbed Chevre Grilled Cheese
Creamy tomato soup and tangy herbed chevre grilled cheese
Recipe type:
Hot soup and Sandwich
Ingredients
Tomato Soup
1 onion
3 stalks celery
4 carrots
2 cloves garlic
1 tablespoon cooking oil
2 tablespoons fresh thyme leaves
1tablespoon brown sugar
3 cups chicken stock (unsalted is best)
56 ounces canned diced tomatoes
3 teaspoon salt
½ cup plain greek yogurt
Grilled Cheese
20 oz chevre cheese
5 tablespoons pinenuts
5 teaspoons sage
1teaspoon salt
32 slices bread (we use Genius by Glutino multigrain bread)
4 tablespoons butter
Instructions
Tomato Soup
Peel garlic, onion, and carrots. Medium dice all fresh vegetables.
In a soup pot, heat oil over high heat. Place all the chopped vegetables in the pot. Cook over high heat until the vegetables are browned but not burnt.
Add in thyme leaves and cook for a few seconds until it "crackles"
Sprinkle in brown sugar and mix until it dissolves. keep cooking for 2-3 minutes or until sugar begins to caramelize (turn slightly darker brown).
Add chicken stock and bring to boil. Cook for 5 minutes at a rapid boil.
Turn down heat to medium and slowly pour in canned tomatoes as well as the salt. Cook until all the vegetables are fork tender. You may need to turn the heat to low to avoid the tomatoes splattering out of the pot.
When all the vegetables are soft place in blender to puree. You will have to do this in a few batches. Hold pureed soup in a bowl or serving vessel to empty blender. Stir in greek yogurt and taste. Adjust seasoning as desired.
Herbed Chevre Grilled Cheese
Toast pine nuts by placing them in a pan over low heat on the stove. Stir them continuously until a golden brown color appears on all the nuts. Be careful to not burn the nuts.
Chop sage and place in medium mixing bowl. Add chevre, toasted pine nuts, and salt. Mix together until cheese softens and all ingredients are incorporated evenly.
Lay 16 slices of bread on a counter and evenly spread the cheese mixture over all 16 slices. Place the remaining 16 sliced of bread on top.
Place 1 tablespoon of butter in a saute pan over medium heat, then place sandwiches in the pan. Cook until both sides of the bread are golden brown the cheese is gooey.
Related Posts via Categories