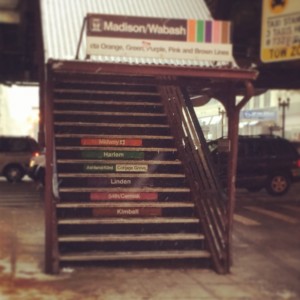 A short weekend getaway to a beautiful city is always an awesome treat. Even in January, Chicago has so much to offer.
When trying to find things to do together, my husband and I usually wind up at a table. Good food. Good beer. Good company. What more do you really need? So over the weekend we took a short foodcation to the Windy City.
Deciding where to eat in a large city can be really intimidating. Fortunately, my husband and I have similar preferences when it comes to the style of food we enjoy. A quick internet search led me to Chicago Magazine's Best New Restaurants of 2013 list. Reading through the menus of the restaurants on this list, it was immediately clear that one weekend getaway would not be enough time to try all of the food that was calling out my name. But there was one menu that jumped off the page at me and screamed, "Scott will want to eat here!"
When eating out at area hot spots, I always make reservations. There is nothing worse than the anticipation of a meal from a very talented chef and being turned away! We even made reservations for brunch in order to avoid a long wait.
Over the course of our two-night stay, we were able to enjoy five different restaurants – including James Beard award winning The Publican and Mexique, owned and operated by Top Chef contestant Carlos Gaytan. Needless to say, our trip home was a food coma induced haze.
A Chicago foodcation was just what my husband and I needed for a weekend away without kids to reconnect. Staying a block away from Millenium Park allowed us to visit Chicago landmarks like the Cloud Gate (aka The Bean) while enjoying the excitement of the city streets. Everything we wanted to see and do was a short cab ride away! Chicago is definitely a must-do getaway at any time of the year.