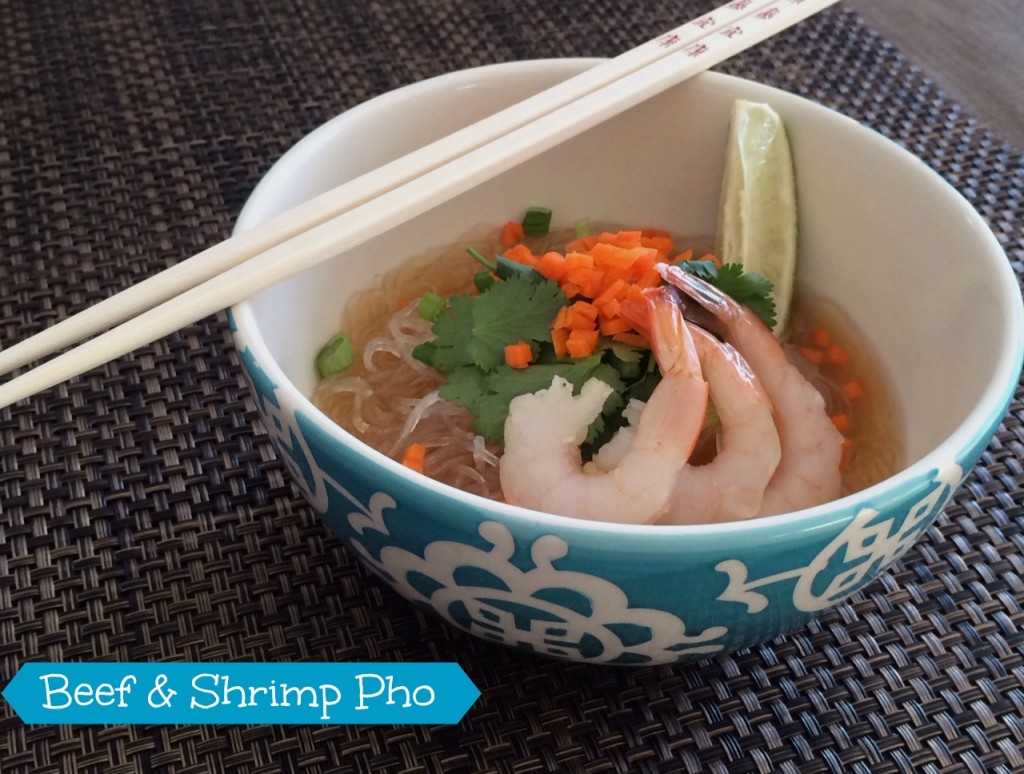 I'm a soup junkie. Beginning in the fall, my husband will usually make me a different soup every week. Typically I like a thick, hearty soup. Pho is a traditional Vietnamese dish featuring a very flavorful broth with noodles. The noodles and meat make this a very filling dish! A traditional pho is prepared by putting a thinly sliced raw meat in the bottom of the bowl. The hot pho broth cooks the meat as the dish is eaten.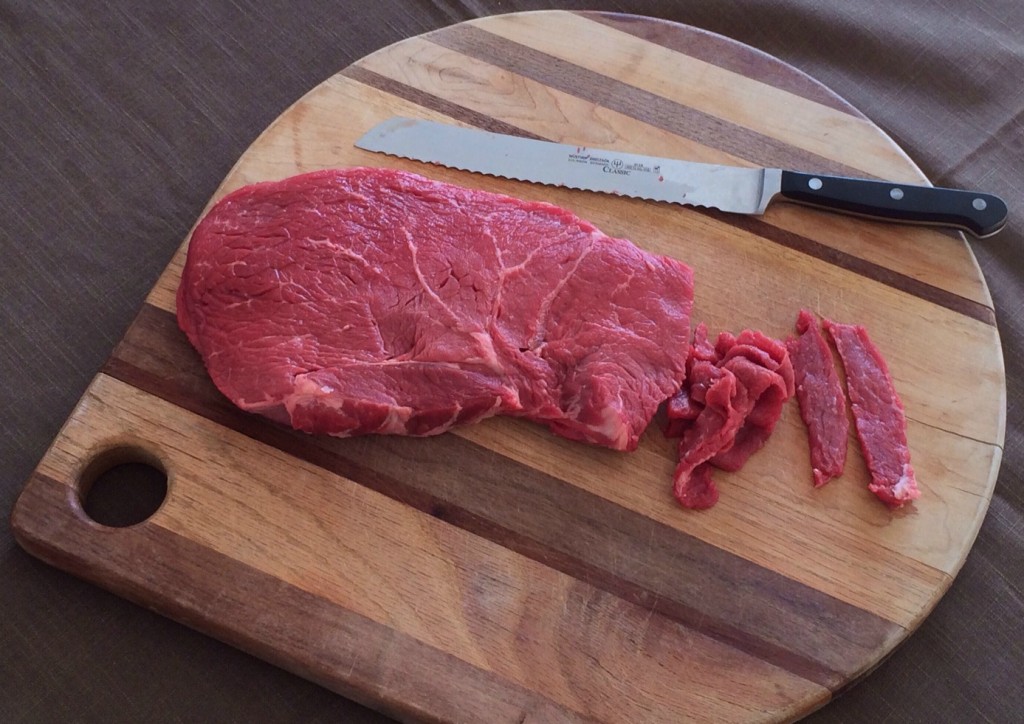 Pho can be a very elaborate dish full of a variety herbs, spices, and produce. These long lists of ingredients can become overwhelming and make at-home preparation seem difficult. The most important part of a good pho is a rich, well-balanced broth with great flavor and a little bit of spice.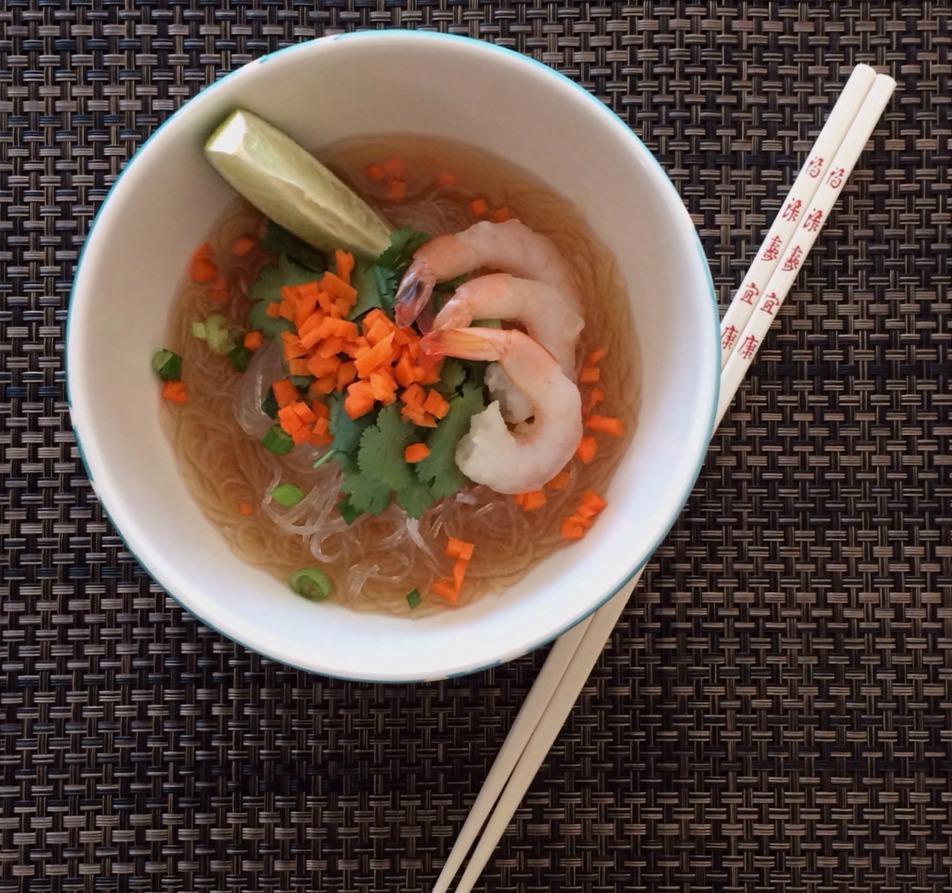 It's not critical that you use multiple meats in your dish. You can add or subtract produce to your liking. That's the best thing about pho! You can really tweak it to your preferred tastes!

Beef & Shrimp Pho
Savory asian broth with rice noodles and garnishes
Ingredients
32 oz water
2 cups chicken stock (unsalted is best)
2 carrots, peeled and cut in three pieces
1 onion, peeled and cut in 4 pieces
1 stalk lemongrass
4 celery sticks cut in 3 pieces each
2 tablespoons soy sauce (we use gluten free Kikkoman)
2 tablespoons chili garlic sauce (we use Tuong Ot Toi Viet-Nam)
1 lime (just the juice)
⅓ cup cilantro stems
2 teaspoons salt
1 package rice noodles
½ pound beef (preferably sirloin or filet)
32 small shrimp (60-71 count) pre-cooked and frozen
1 carrot
2 cups cilantro leaves
1 cup finely sliced green onions
3 limes cut into 6 wedges each
Instructions
Thaw shrimp under cold running water or pull out of freezer a day ahead and place in fridge to thaw.
Combine the water, chicken stock, carrots, white onion, lemongrass, celery, soy sauce, chili garlic sauce, lime juice, cilantro stems, and salt in a pot. Bring to simmer and cook for 45 minutes until a deep rich flavor develops in the broth. Note - before you put the lemongrass stalk in the pot make sure to hit it with the back side of a chef knife to crack it open, otherwise you will not pull the full flavor out of the stalk.
While broth is cooking cut the remaining carrot in to very small pieces, place in bowl for garnish later. Next slice the green onions and lime wedges, as well as picking the cilantro leaves. Place all ingredients in separate bowls and set aside.
To cut the beef grab a serrated knife or a very sharp chef knife and cut strips as thin as you can make them off of the steak. Place in bowl and set aside. Note -if you think this will be difficult either ask your butcher to cut it for you or buy the pre cut steak sandwich meat found in most grocery stores frozen section. Make sure to thaw any frozen meat ahead of time.
Bring a 1.5 gallon pot of water to boil. Place rice noodles in the pot and turn the heat off. Stir until the noodles are cooked through but not soft and mushy. Strain them from the water and and run under cold water to stop the cooking process. Toss in oil to avoid them from sticking together.
When broth is done strain it through the finest sieve you have. (A colander will work but a finer sieve is preferred.) Once strained, place broth back in the pot. Bring back to boil when ready to eat.
To serve, place 3-4 pieces of beef in the bottom of the bowl. Place a pile of the noodles on top and ladle boiling hot broth into the bowl. It is important the broth is very hot since it will be cooking the beef at the bottom. Next arrange shrimp green onions, cilantro, and carrots on top. Place lime wedge on side and serve with a pair of chop sticks if desired.
Related Posts via Categories