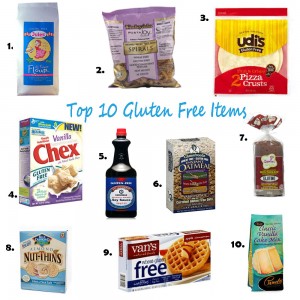 Making the decision to go gluten-free in our home two years ago was a daunting choice. Not only did our kids buck at the idea, but some of our favorite indulgences were gluten-filled. However, the drastic swings in our daughter's behavior were evident when she had consumed more gluten than usual.
Learning what has gluten and what doesn't took some time. So did reading all of the labels at the grocery store! We have fallen into a rhythm of what we eat and what we buy. Initially the sticker shock on some of the replacement foods was drastic, but we've learned over time that it doesn't have to be in the "gluten-free" section of the grocery store to actually be gluten-free.
Through trial and error, we have found some real duds – foods that tasted like the cardboard in the box they came in. We have also been fortunate to find some gluten-free staples we couldn't live without!
Obviously, personal preference reigns king in all of our lives. Over the years, we have tried many products attempting to replace old favorites. While this is not a comprehensive list, it is a list of items that have been tried and true. In my opinion, homemade is always best – but these items always do the trick!
**All opinions expressed above are mine and mine alone. No compensation was received from any of the above mentioned brands, nor have any of the above brands contacted my prior to publishing date for endorsements or reviews. I just truly love these products!**
Related Posts via Categories